Group Dance Classes
Our Group Dance Classes are perfect for beginners who want to enjoy the dance.

Private Dance Lessons
Receive individual, patient instruction in any of your favorite dances.

National Dance Competitions
SWPAC is a nationally-ranked studio in contemporary, jazz, hip hop, and more!
Lessons & Activities
Discover the fascination of dance with our group and private lessons and activities!
More Info
Benefits of Dance
There are numerous benefits to partaking in dance classes ranging from exercising to making new friends.
More Info
Year-Long Dancing Culture
A perfect opportunity for teenagers to plunge into the world of dance and learn new moves.
More Info
Schedule
---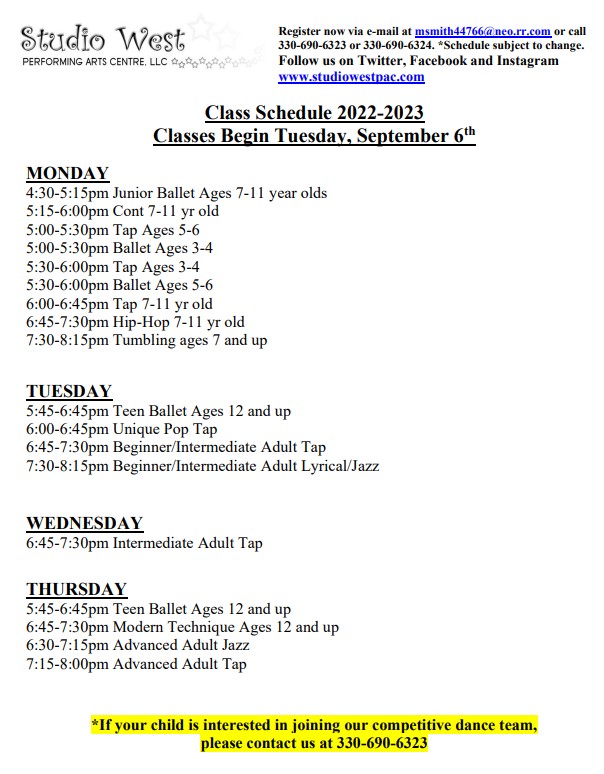 Coaches and Instructors
---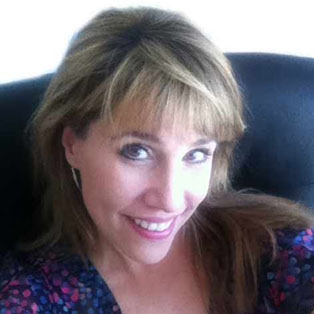 Erin Smith
Co-Owner, Ballet, Lyrical, Jazz, Modern
Erin S. Smith, a former dancer with the Columbia City Ballet in South Carolina, holds a Master of Fine Arts degree in dance from the University of North Carolina-Greensboro and a Bachelor of Fine Arts in dance from The University of Akron.

Erin has received scholarships to the Boston Ballet, Joffrey Ballet, and the Vaganova Festival in Pittsburgh, PA.

In ballet, she has studied with Jerry Burr, Inna Stabrova, Gabriella Komleva, Cynthia Harvey, Arnold Spohr, William Starrett and many others. Her modern training has been with Lana Carroll-Heylock, Tom Evert, Ian Horvath, Colette Bischer-Choate, John McLaughlin, Jan Van Dyke, John Gamble, Rick McCullough, Leslie Dworkin and Kent DeSpain.

She has served as the Vice-President for the Ohio Association for Health, Physical Education, Recreation and Dance (OAHPERD) and she has choreographed for "A Children's Theatre Workshop" in Hudson, OH.

Erin has been a dance instructor at Kent State University since 1997 and she has also taught dance at the University of Akron.

Erin joined her husband, Mark, in 1996 at Studio West. Since then, her commitment to training and inspiring dancers of all ages has been consistent and successful. She has won numerous choreography awards for her creativity and ingenuity. Erin hopes to help all of her students develop a deep appreciation and love for the artform.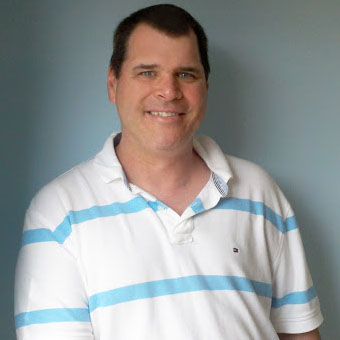 Mark Smith
Co-Owner, Tap and Jazz
Mark Smith, a former Broadway dancer and member of Lee Theodore's "The American Dance Machine" in New York City, has performed nationally and internationally in "A Chorus Line", "Sweet Charity", "My One and Only", "Biloxi Blues ", and "Singing in the Rain" with special instruction from Gene Kelly.

Mark has studied with Gus Giordano, Frank Hatchett, Harold Nicholas (Nicholas brothers), and Gregory Hines, to name a few.

In addition, Mark was chosen as the first Mr. Dance of Ohio in 1983 and has performed in numerous dance competition groups that have won first place at state and national levels. He has choreographed and performed with the Miss Kentucky and the Miss Ohio Pageants and he has been a choreographer for many area high school musicals. Mark was certified as a dance instructor through Dance Masters of America in 1991.

Mark joined the faculty at Kent State University in 2020 teaching Tap.

Mark is known for his highly unique style of rhythmic tap choreography. His enthusiasm has inspired all of his dancers to be the best they can through pure enjoyment of dance! His sense of humor has delighted dancers across the United States during dance conventions and master classes.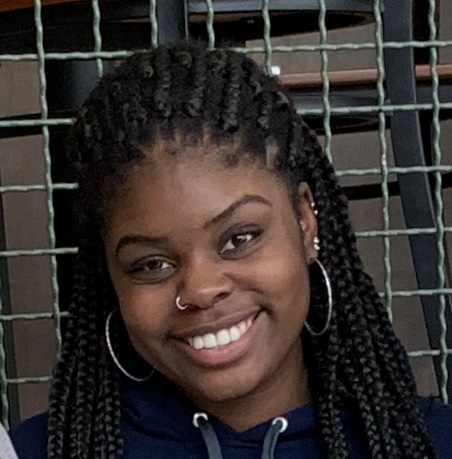 Destiney Vaughn
Hip Hop
A native of Akron, Ohio, Destiney began dancing at the age of 5. She was a four-year member of Archbishop Hoban Knights Dance Team and she has performed at the regional and state championship levels. As a student at Hoban, Destiney assumed the duties of choreographer and team captain her senior year. Destiney was appointed assistant coach and choreographer for the Hoban Knights Dance Team in June 2018. Her choreography has earned 2nd and 6th place at the OASSA State Championships in Columbus is 2019 and 2020. She has been teaching all levels of hip-hop at Studio West for the past two years. Her competition choreography has earned multiple overall titles, first place awards, and choreography awards. Destiney is currently pursuing a degree in Fashion Merchandising and Marketing at Kent State University. We welcome her back for a third season at Studio West.
Testimonials
---

Carl Smith
Student
Your wonderful Studio West PAC has given me a sense of perfection and self-confidence while making friends with common interests. It has also encouraged discipline and hard work in a fun way.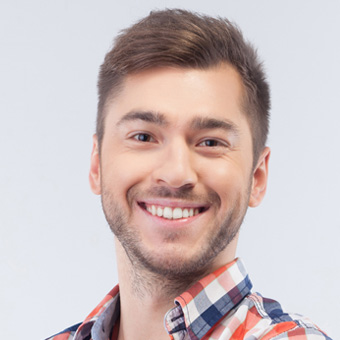 Steven Butler
Student
I have been dancing at Studio West PAC for 10 years and have loved every minute. It offers such a relaxed and friendly environment for all the dancers and continues to inspire my love for dance.