Rules & Policies
(download Rules & Policies by clicking here)
---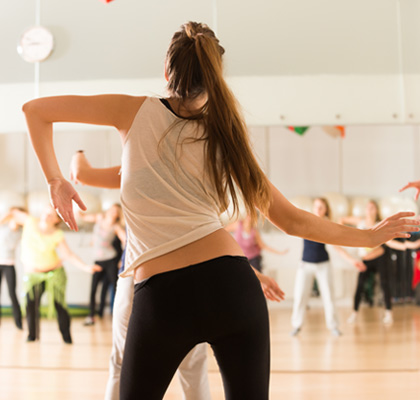 Dress Code:
Dress Code is required for all classes. A cover-up should be worn entering and leaving the studio. Do not wear dance shoes outside of class.
All Classes: BLACK leotard and black spandex shorts or leggings..
Ballet: pink stretch canvas or leather split-sole  ballet technique shoes. Hair must be in a bun or secured off the neck.q         Lyrical/Contemporary: Bare feet.
Jazz: Bare feet
Hip-Hop: TBD
Tap: Students ages 3-11: Tan flat "Mary-Jane" tap shoes w/ buckle. Students 12 and up: black flat tap oxfords with ties
Students' hair must be tied back and secured for class in a high ponytail for tap, jazz, lyrical and hip-hop. Jewelry is not permitted. Students may wear stud earrings only.
Shoes and practice attire can be obtained at Stage Center, 908 N. Main St., Akron. Adult Dress Code: comfortable clothing and appropriate shoes. See individual instructor for details.
Tuition
Tuition remains the same whether it is a long (5-week) or short (3-week) month, regardless of absences. It is payable monthly in advance, due by the first lesson of each month. No statements will be sent unless you are overdue. A ten dollar late fee will be applied to tuition after the seventh of the month regardless of the reason. Absence is not an excuse. Tuition may be mailed if necessary to the address above. Post-dated checks will not be accepted! A $40.00 fee will be charged for any returned check. Consistent delinquent payments or accounts over 30 days may result in suspension of that student's participation in class. No students will participate in the recital until all fees, late charges, damage charges and costume money is received and clear. If you are experiencing financial difficulties, please call. We do not want to deny any child an opportunity to dance if a viable solution is available. Checks should be made payable to Studio West. To ensure proper credit,
PLEASE PUT YOUR CHILD'S NAME ON THE CHECK – especially if your child has a different last name than yours. Tuition is non-refundable. If you are paying for the entire year, payment is due by September 30 in order to receive a 5% discount. All students are required to pay a non-refundable $100 recital fee due by September 15th which includes up to four (4) tickets per family and a flash drive of the performance. Tickets are non-refundable and will be distributed in the May after all fees have been paid for the season. 

Snow Days
Please check WKYC i-alert after 2pm. Students may make-up snow days in comparable classes during the week. 

Costumes/Revue Tickets 
All dancers who participate in our annual revue must purchase a costume from the studio. Costumes must be paid for in advance by October 1st. Costume payments are non-refundable.Costumes that are not paid for in full will not be ordered.
Costumes are distributed at the end of the year after May tuition is paid. Costumes cannot be exchanged or returned. Parents and students are responsible for any necessary alterations to the costumes.
 
Missed Classes and Refunds
There are no pro-rated fees for missed classes or holidays. There will be no refunds for classes missed. Once you register for the year and have reserved your place in a space limited class, you are obligated to see through the financial commitment of the full term. If a teacher cancels a class for an emergency, then class will be made up at a later date or the student may attend another class on the schedule as a make-up class. 
Private/Semi-Private Dance Classes 
If you are enrolled in a private lesson, please be aware that we do not "make-up" private lessons unless we cannot teach.  (In other words, if you miss a private lesson, regardless of the reason, the lesson will not be taught at another time and payment will not be transferred to the next month or credited to your account.) 

Withdrawals
The Directors should be notified IN WRITING immediately if a child must withdraw from a class. Until such time, the space will be held for the student and the charges invoiced to the parents. Any fee in arrears will also be assessed. A payment schedule may be arranged for families with financial hardship. Once a student has quit twice in the middle of the year for reasons other than illness or hardship, the parents should consider not returning to our studio. It is not conducive with our philosophy to participate when quitting becomes a habit. We recommend the parents' stern commitment to completion.

Observation and Video Taping
Parents MAY NOT sit in the classroom, VIDEO or TAKE PICTURES during class unless special arrangements have been made. Remember, it may not distract your child for you to be in the class, but it is very distracting to other children who do not know you. 

Arrive on Time
Children under 7 should be accompanied by an adult. Small children should be taken to the bathroom prior to class. In the interest of the child's safety, students arriving more than 15 minutes into a class will observe only. Our staff does not guarantee supervision of a child picked up late from class. If you are running late, please call the studio as soon as possible. This will ease the child's nerves as well as allow us to make special arrangements as needed.

Be Prepared
Students should arrive dressed ACCORDING TO THE DRESS CODE and with the necessary hair accessories and extra shoes in a small dance bag. Students' names should be on every item, especially dance shoes, dance bags, and book bags. Students who are not adequately prepared or late to class due to a lack of preparation will observe class only. The staff will assume no responsibility for lost or misplaced items.

No Food or Drink
No food or drink(with the exception of water) is allowed in the studio or dressing rooms. Food and drinks are allowed in the  lobby however, any damages made are the responsibility of the child and that child's parents.

Complete the Class
Class will be dismissed by the teacher. If class started late, it may run late. If a student needs to be excused for any reason during class, they must ask permission of the teacher. No child will be released from class on their own accord. For early dismissal, the parent must make arrangements prior and come to the door to retrieve the child. This is a matter of safety. Students should remain in the studio lobby until parents arrive to pick them up. Students may not wander the halls, as this distracts people from the other businesses in the building.

Outside of Class
Proper respect for the directors, staff, studio, curriculum, fellow students and facility is EXPECTED of all students, parents, siblings, on or off-site. When participating in a studio event, performance, out-of-town excursion, or when wearing the studio logo, general deportment and behavior is as important as your ability to dance! Parents needing to speak to the staff should arrange for a meeting rather than hold instructors up between classes.
 
Insurance
Studio West does not carry medical insurance for its students. It is required that all dance students be covered by their own family insurance policies and if injury occurs it is understood that the student's own policy is your only source of reimbursement.